Most experts do not even come close to leveraging their expertise nearly as much as they could. You may have heard me speak about Brilliance Extraction™ as an effective solution to that problem, or you may have watched a couple of videos I offer on the subject.
Brilliance Extraction™ is what it sounds like: the extraction of your brilliance out of your head. Do not worry: It does not hurt and does not involve brain surgery. The process is fun, and it is a "copy and paste," not a "cut and paste."

Using the extracted information, we build knowledge systems such as videos, checklists, manuals, eBooks, books, courses, or even training portals. These systems are tangible, durable assets. In contrast, the brilliance you carry in your head is intangible. It is assessable only by you. It lacks leverage. Of course, the extraction of the brilliance of other key people in your organization is also a great idea.
"Okay," you say, "that is all good and fine; I get it. But I have some questions, and I am busy, so give me the answers fast, please". Alright, here we go. You might want to grab a coffee and a piece of paper to jot down your ideas as we go through a few questions you probably have on your mind. Fast, of course!
What are the benefits of leveraging my expertise through Brilliance Extraction™?
There is a long list of benefits:
Efficient onboarding of new staff
Training your team
Seamless delegation
Reducing the risk of brain drain (key people leaving for whatever reason)
Improving processes
Enhancing efficiency
Accelerating growth/scaling-up
Increased business value
More market impact
Educating prospects
Supporting customers
Selling your expertise online
Which is the most important benefit for you?
Which area/s of expertise would you like to extract and build into a tangible, systematic asset?
That is the first question I ask the brilliant people who I ask me about how to leverage their expertise at a higher level than before. And what is your context?
Are you running a larger organization? We would likely start by mapping the expertise in your organization.
Do you have a specific pain point right now? For example, a key employee is about to leave, and you need to preserve as much of the knowledge he/she has. Again, let us talk about what type of expertise that person has so we can come up with a plan to preserve it and avoid brain drain in your organization.
Are you an expert who is regularly being asked for advice by other people? Are you tired of not getting paid more for what you know? Yes, I get it. There is a way out. We must talk about who wants your advice. How much money do they have to pay you for that advice? Are they a good target market for a knowledge system you might build from your expertise? Who else could you serve? Let us face it: You are building a new business here, or business offering or segment. That does take a little thought, even if you are busy. Mainly because you are working hard, we want to make sure that whatever we build together will have a massive return of investment of your time and money.
What are the three main scenarios for Brilliance Extraction™, and what is the process for each of them?
Excellent question. Check out this roadmap: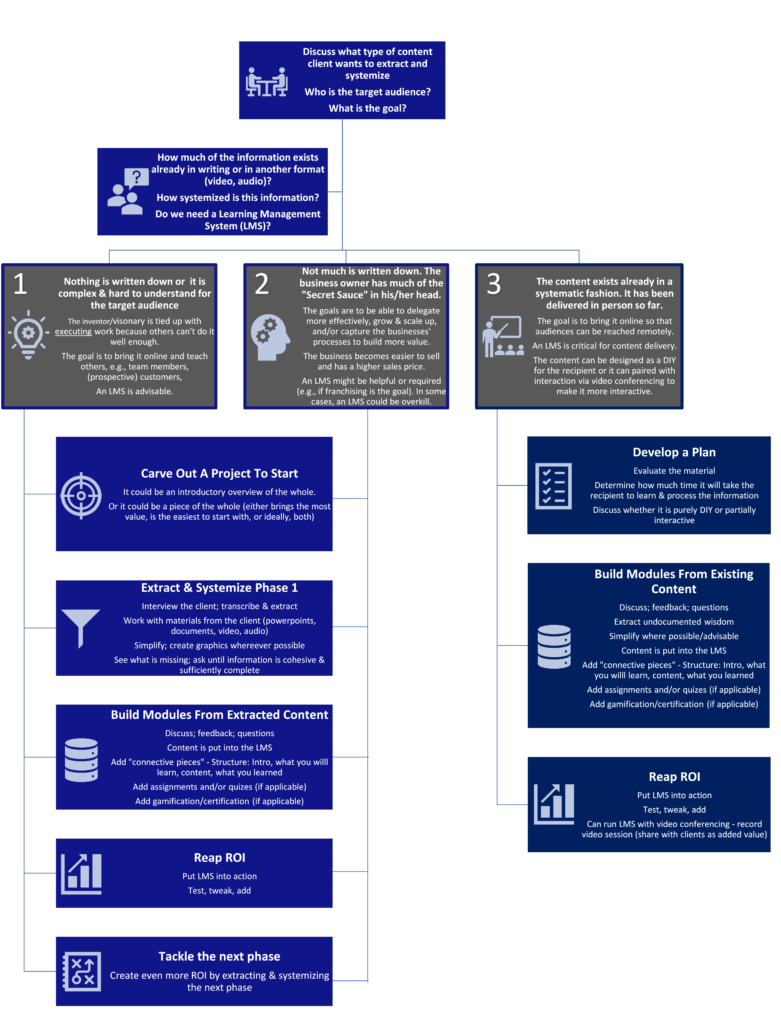 The three scenarios are
The expertise is all in the person's head and not written down, or existing documentation is complex and hard to understand for the target audience. This situation applies most often to visionaries and inventors. They end up having to execute work more than they would like to do, simply because others cannot do it. We can change that and get visionaries and inventors back to doing what they are best at, namely creating more ideas.
Most of the "Secret Sauce" a business owner or expert has developed is in his/her head. The business owner or expert might want to be able to delegate more effectively, capture processes, grow and scale up the business. Many business owners do not even realize how critical capturing their "Secret Sauce" is until

They find it hard to ever relax (they get calls even while on their rare vacations) or
They find out they cannot sell their business because the "magic sauce" is in their heads.

The content already exists systematically. For example, a person might have held in-person workshops and wants to bring these workshops online.
How long will it take?
That is also a great question, yet it is a bit like asking: How long does it take to build a custom car before deciding what its performance and looks are. But I get it: Before you can go down this path, you need to picture what you are biting off.
Here are some examples:
A course about a complex, technical subject

Complete in only five months (meetings with clients 3x per month)
Used for onboarding internal and external team members and to educate prospective customers
The material was almost all in the innovator's head – had to do lots of extracting, simplifying, and clarifying – this led to the design of crucial graphics showing the concepts
Eight sections
Section one introduces the overall course and establishes the foundation in four essential areas – I narrated and produced videos from slides for these four lessons.
Sections 2-8 are used as PowerPoint for now (no videos)

A course called "Get a Grip on the Value of Your Business."

Used for educating business owners about their options to exit their business – and attract them as clients for exit planning services
Completed in four months – lets of work went into this
The material was an offline workshop in the past
Used a videographer to create videos with animated slides with music in the beginning and end

A business system for a Digital Marketing Agency specializing in Serving Plastic Surgeons who are experts in high-definition Liposuction

Created systems to delegate and track work
Built these systems over time
These systems
Allow a much higher degree of delegation now (with a high-quality outcome) AND
Make it possible to sell the business when the owners are ready for that step

A bathtub refinishing business with seven locations

Met with the client only twice per month
"Homework" on both sides between meetings – homework for clients was closely aligned with doing his normal work and took little extra time
Almost immediately: created the best job description ever for hiring a new quality inspector
Invested about two months to develop quality inspection training systems
Proceeded to create training systems for all aspects of the company

A business planning course KISS Style (Keep It Smart and Simple)

This course was my first one, and it was mostly Brilliance Extraction™ on myself. That is hard and slow. I still had some help. Feedback on everything one produces is vital.
The course took six months to create.
The course consists of ten lessons.
One goal was to make the lessons short (5-10 minutes maximum) – shorter lessons are often harder because you have to think about how to convey what you need to convey quickly without losing the message or engagement with the audience
The course is delivered via a Learning Management System. Some time was invested in writing
Brief introductions to each lesson
Summaries for each lesson
Downloadable documents
Quizzes
Assignments
What does it cost?
The cost varies depending on the complexity of the project, the speed with which it needs to happen, and the desired output (PowerPoints, manuals, eBooks/books, checklists, videos, Learning Management Systems, etc.)
The investment for Brilliance Extraction™ begins at $2,500 per month. $5,000 + per month is a more typical number. Importantly, we do not accept clients unless we see that we can generate a massive ROI for them.
Do you offer marketing for my online course/s?
We have a close relationship with a Digital Marketing agency that can help.
The first step is to figure out your business model/ purpose of the extracted and systemized information.
How soon will I/my organization benefit?
Quickly. Most organizations put the extracted and systemized information to work right away. That means they reap an ROI almost instantly.
For example, let us say we document a necessary process. It is now possible to train others quickly. Delegating, scaling-up, and dealing with turn-over are examples of how businesses get a massive ROI in such cases.
How much of my time/my key people's time will this take?
That depends on your specific situation, preferences, and goals. Typically, business owners, executives, and subject matter experts are busy. They do not have the luxury to spend a lot of time. Our methods are designed to work with that fact.
We find natural opportunities to extract brilliance.
We do most of the systemizing behind the scenes. We show the client the results and ask for their feedback.
Will this work for me/my industry?
I do not see why not. I have worked with people in lots of different industries and scenarios.
Here are some of many examples:
Software
High-tech and all manner of technical/complex content
Exit planning/ Financial advising
Digital marketing
Insurance
Business development
Start-up visions
Converting offline content into online courses
What is your magic sauce in doing Brilliance Extraction™?
Figuring out the target audience and making sure we address them correctly
Connecting the dots
Completeness
Toning down expert lingo unless it is appropriate for the target audience
Making the information easier to understand
Encapsulating the information in simple-to-grasp graphics
Making the information more engaging
Always consider the end purpose as we build the asset
Detailed feedback
Making the most out of the time you spend with me
What if I cannot commit to months and months of engaging in Brilliance Extraction™?
That is another excellent question. It can be hard to commit to a longer-term project. Especially now. Who saw COVID-19 coming and how it would impact our lives? But do not worry. We get results quickly. We can define a small project to start with and design it such that it will provide value to you promptly. You can build on that over time as you have time to leverage even more of your hard-earned brilliance.