The Knowledge and Wisdom In Your Brain Are Invaluable!
My mission is to make knowledge and wisdom scalable and immortal!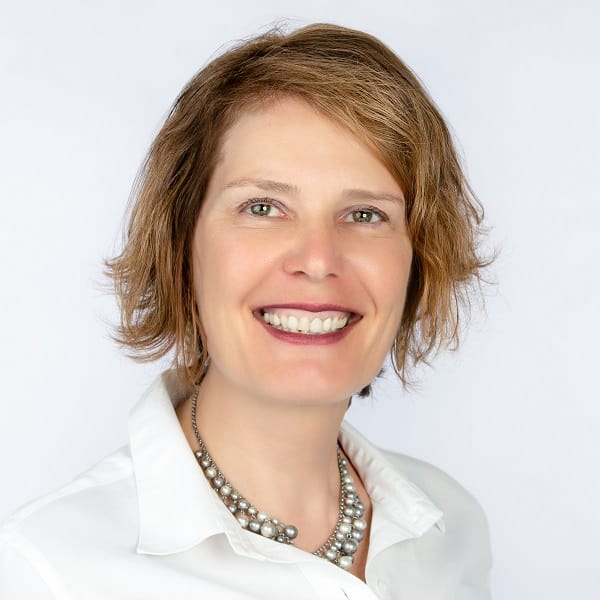 Founder and CEO of The Brilliance Mine

Offers tangible insights on how to protect and leverage the brilliance you and your team carry in your brains
Engages your team, and positions you for strong business growth.
Masterful at pulling brilliance out of your brain, making it visible to others, and enabling them to use it.

Authority in business growth

Has grown and turned around many businesses
Has been in the executive "hot seat"
Offers insights and strong business acumen that bring quick results
Excels at explaining complex things in simple terms so others can understand them quickly

Started her career as a Ph.D. scientist

Award-winning research and development with DARPA, NSF, and DOD agencies, e.g., novel landmine detection technology in use today
Recognized by MIT Technology Review Magazine as "most promising young innovator under 35"
Knows firsthand about working as a subject matter expert

A highly engaging speaker who marries insightful content with humor and interaction

Dr. Stephie has been described as "infectious energy!
Entertaining and inspiring
Stephie lives with her husband Adam and their son Dylan in Flower Mound, TX. She is always keen to learn something new - and pass it on to others. She is an outdoor enthusiast and a martial artist. She is also quite involved in the community (e.g., Rotary, Toastmasters, TX Center for Employee Ownership, Speaker's Bureau at the Chamber of Lewisville, TX)
She is the author of 2 books, "101 Quick Tips for High-Talent Companies" and "101 Quick Tips for ESOP Leaders." Her third book, "365 Brilliance Nuggets" is about to be published.
To what extent do you agree with these three thoughts?
You have brilliance! By that, I mean: You carry in your brain a unique combination of expertise, experience, and wisdom.
Your brilliance is worth transferring to others so you can grow and scale your business, make a difference in the world, make money, keep at the innovative edge - and build something great that lasts.
It is worth doing now because otherwise, a lot of your potential remains unlocked. You lose out on money, impact, innovation, work-life balance, and legacy.
If you agree, then what is the solution?
We need a shift in thinking and a method called Brilliance Mining™
That is the main topic area I love to share with business owners and organizations worldwide.
There is a simple, time-saving, inspiring, and fun path to make your brilliance scalable and immortal.

My keynotes and workshops engage with humor. They inspire and shift thinking with tangible results.

 

If you want to take more action on what you learn, I can support you with it in a way that best suits you.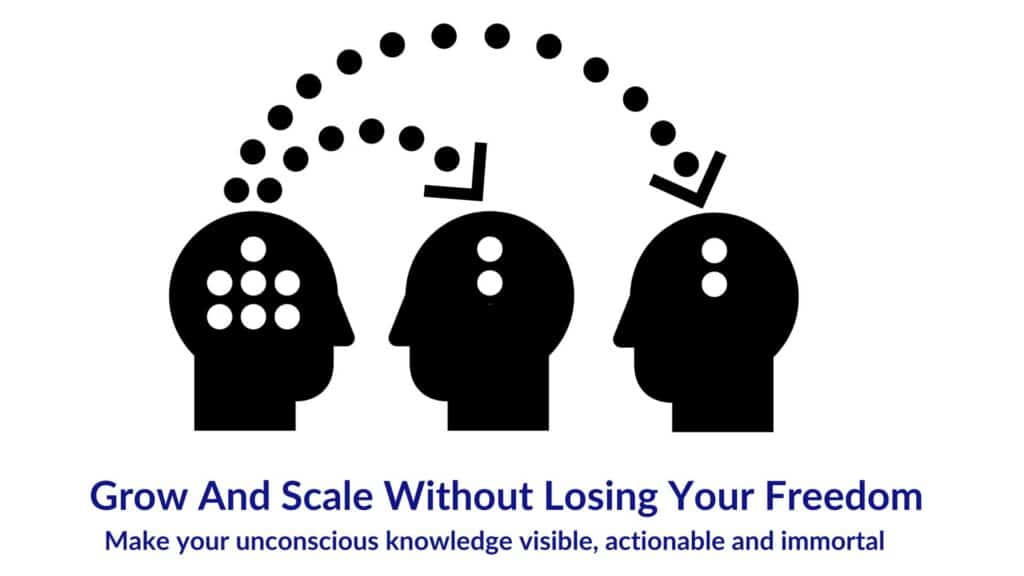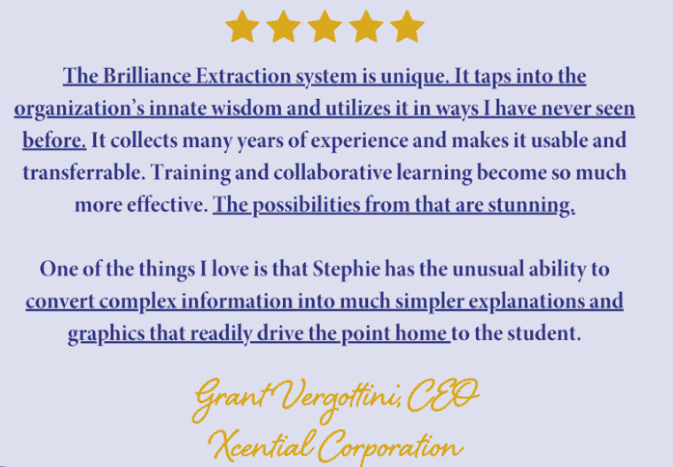 Keynotes and Brilliance Mining™ Workshops
The No B.S. Way To Grow And Scale Without Giving Up Your Freedom
Growing and scaling your business often comes at a hefty price. You have little to no time left for your personal life. You are likely to find yourself in a whirlwind of supporting people on your team to execute their jobs. It leaves you little time to work ON your business. It often feels like "juggling chain saws." Creating and implementing new ideas stay on the back burner. Taking a real vacation - without interruptions - seems out of reach.
Why is this problem so common? Why do business owners rarely find the situation they dreamt off when they started? All they wanted was to create something great, make a difference, earn great money and live a happy and free life. Is that asking too much?
Not really. But for most business owners, there is a crucial element missing. They need a way to transfer knowledge from their brains to those of others. They need it done without a decline in the quality of the result.
In this keynote, Dr. Stephie reveals that your unconscious competence is a big part of your success. How can you teach that? How can others replicate what you do without even thinking about it?
She shares inspiring stories of business owners who have used Brilliance Mining as the no B.S. way to grow and scale their companies. The conclusion?
YOU can do this!
You Are Brilliant - No Kidding - And What To Do About It!
Do you realize how much "brilliance" you have in your brain? By "brilliance," I mean your unique combination of expertise, knowledge, and wisdom. The brilliance in your brain - and your team member's brains - is the fuel that drives your business to success.
Yet, this expertise (brilliance) could also be killing you if you must manage it daily.
To what extent do people depend on you?

How much time do you have to be creative and innovative? How many opportunities do you have to work ON your business and drive it to the next level?

Is your time put to the highest use? How does that look for others on your team?
Dr. Stephie tells inspiring (true!) stories about business owners who have made their business experience fulfilling:
Growing and scaling without the risk and chaos most companies experience

Enjoying terrific company culture, great talent retention, and work-life balance

Fluid succession and protection against sudden loss of key team members

Building something great that lasts

Preparing their company for sale/passing it on
Inspire your team to embrace and leverage brilliance at a whole new level.
The Counterintuitive Way Of Being An Expert
Three Beliefs You Must Have To Leverage Expertise
How To Train Faster, Better, And At A Lesser Cost
A New Success Culture Around Your Expertise
How To Increase Your Impact In The World And Make It Last
I have found that once or twice in a decade, if I'm lucky, I'll walk away from a discussion that has the potential to impact the way I live my life. Sometimes the potential is to impact the overall happiness of others or me; sometimes it is the potential to impact my career.
The word "profound" comes to mind following one of these rare discussions. I just had one of these discussions with Stephie; this one has the potential to impact both others' and my own overall happiness and my career.
Jon MacDonald
Executive Vice President & General Counsel, Fairfield Residential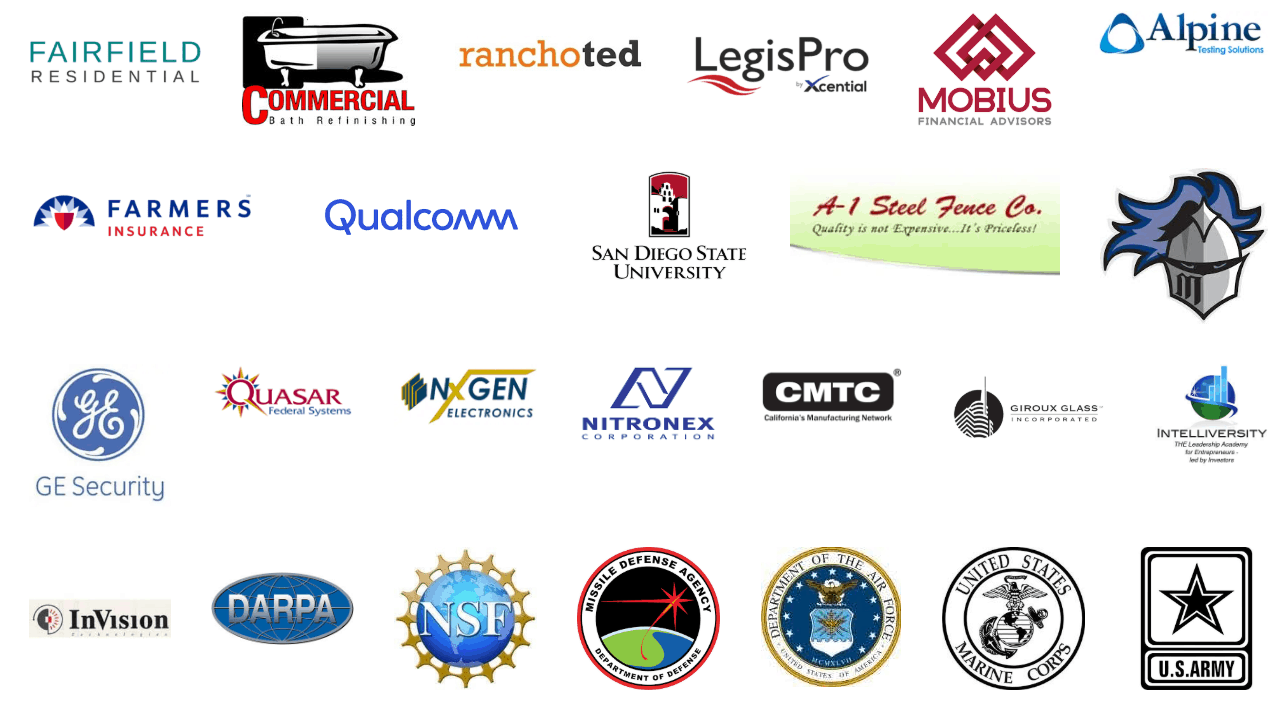 Ready for a 
Keynote or Workshop?